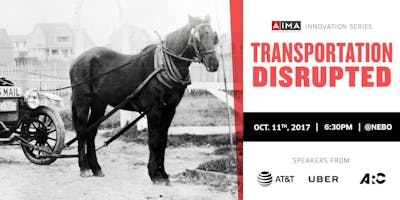 Wednesday, October 11, 2017
Unfortunately, due to unforeseen circumstances this is event is being rescheduled for early 2018! Transportation Disrupted – The Future of Getting from Point A to Point B
Get Your Tickets
When & Where
Wednesday, October 11, 2017,
6:30 pm to 9:00 pm
Nebo
1000 Marietta St. NW,
Suite 270, Atlanta, GA 30318
Directions >
Event Details
Unfortunately, due to unforseen circumstances, this event will be rescheduled early 2018! Refunds on their way!
Between the evolving ownership economy and the advent of self-driving cars, today's children may never get a license, and kids younger than them may never own a car at all.
Join us for the latest in our AIMA Innovation Series, to hear experts in the transportation field discuss how their organizations are leading and reacting to this changing environment.
Enjoy delicious food from Fox Brothers BBQ and local beers from Wild Heaven brewery – included with your event ticket!
Speakers: 
Nicholas Juliano, Public Affairs Manager, Uber
Leslie Caceda, Transportation Technologist, Atlanta Regional Commission
Dale Malik, Director – Innovation and EcoSystems, AT&T Foundry
Moderator: Todd Slutzky, Director of Strategic Opportunities, Nebo
Agenda
6:30 – 7:30 – Networking, Food, Drinks & interactive exhibits
7:30 – 8:30 – Speaker Presentations
8:15 – 9:00 – Panel Discussion followed by Audience Q&A