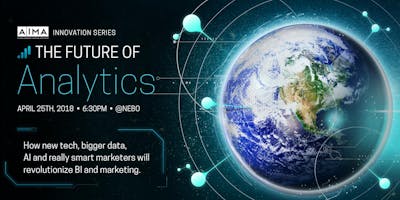 Wednesday, April 25, 2018
The Future of Analytics – Innovation Series Presented by Nebo
Get Your Tickets
When & Where
Wednesday, April 25, 2018,
6:30 pm to 9:00 pm
Nebo
1000 Marietta St. NW,
Suite 270, Atlanta, GA 30318
Directions >
Event Details
How new tech, bigger data, AI and really smart marketers will revolutionize BI and marketing
Our offline and online worlds have converged. We have more data than ever. The future of analytics is predictive, fully-attributed and nearly omniscient. This potential future world is one where consumers and brands interact in harmonious, non-interruptive and mutually beneficial ways.
Join us for the latest AIMA Innovation Series Event to hear experts from Adobe, Crimson Hexagon, Coca-Cola and Emory discuss the exciting future of analytics and how it will change marketing and business intelligence forever.
Oh yeah – there will be delicious food from Pizzaiolo and local beers from New Realm Brewery.
Speakers
Dave Bilbrough, Manager, Architecture and Innovation at Adobe
Tom McGrath, Senior Product Manager at Crimson Hexagon
Morgan Yates, Digital Analytics Program Manager at Coca-Cola
Moderator: Bennett Travers, Innovation Lead @ Nebo
Agenda
6:30 – 7:30 – Networking, Food & Drink
7:30 – 8:15 – Speakers & Panel Discussion
8:15 – 8:30 – Q&A with Speakers
8:30 – 9:00 – Additional Networking