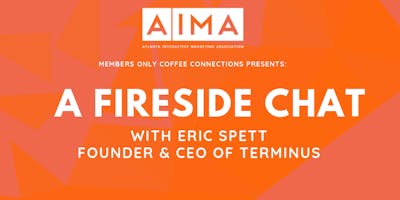 Tuesday, October 30, 2018
Members Only Coffee Connections: Fireside Chat with Eric Spett, CEO & Founder of Terminus
Get Your Tickets
When & Where
Tuesday, October 30, 2018,
7:30 am to 9:00 am
The Hive
384 Northyards Blvd NW Suite 300,
Atlanta, GA 30313
Directions >
Event Details
Use your member code to access your ticket! Not a member? Join today!
Join Eric Spett, CEO and co-founder of Terminus, and David Favero, AIMA's Board President, for a close-up look at Terminus – from its founding in 2014 through to its meteoric growth today. We'll discuss the challenges of start-ups, why the ABM space has heated up, and how it has been driven by the #FlipMyFunnel movement started at Terminus. What is #FlipMyFunnel? What is Account-Based Marketing? What has driven Terminus' growth? Where do we go from here?
Agenda
7:30AM-8AM: Check-in, Breakfast & Coffee, Networking
8AM-8:50AM: Presentation
8:50-9AM: Final QA & Event Closeout
Many thanks to our event sponsor Publicis Groupe
We are currently seeking sponsorship for our upcoming events for 2019 including educational series like Coffee Connections. If you are interested in learning more about these opportunities contact us at sponsorships@atlantaima.org.