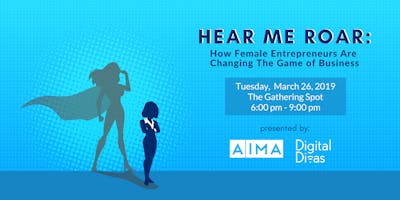 Tuesday, March 26, 2019
Hear Me Roar – How Female Entrepreneurs are Changing the Game of Business | Digital Divas
Get Your Tickets
When & Where
Tuesday, March 26, 2019,
6:00 pm to 9:00 pm
The Gathering Spot
384 Northyards Blvd. NW Suite 190,
Atlanta, GA 30313
Directions >
Event Details
Access to technology, social networks and the rise of B2B services have come together to form the perfect backdrop for starting a business. Never before have we had better tools to launch entrepreneurial pursuits.  Whether it's a full-time hustle or something on the side, women are starting 849 new businesses everyday. We all have individual stories about where this drive comes from.
The critical question is HOW do these entrepreneurs make it happen?  During this interactive panel, we'll interview dynamic owners, founders and CEOs. We'll focus on identifying how these women translated their existing experience, passion and skills into something meaningful and made the leap into building a new business or service that other women needed and wanted.
Agenda
6:00 – 7:00 – Networking, Food, Drinks
7:00 – 8:00 – Panel Discussion
8:00 – 9:00 – Audience Q&A and Networking


Moderated by
Kunbi Tinuoye –  Founder of UrbanGeekz
Kunbi Tinuoye is an award-winning British-born journalist and broadcaster based in the United States. She is the founder of UrbanGeekz, a groundbreaking video-centric African-American, Latinx, and multicultural digital news platform focused on technology, science, business, and startups. UrbanGeekz has been recognized by the Technology Association of Georgia as an innovative media platform that's impacting the tech entrepreneurial ecosystem in the state and beyond. Ranker has listed UrbanGeekz as one of the top 20 'Best Tech Blogs' online. The brand has also been featured in YNaija, Crain's, and Black Enterprise, among others.
Tinuoye currently sits on the SXSW Pitch Advisory Board and CES Conference Advisory Board. She is a key player in the Atlanta tech startup ecosystem and serves as a mentor for Comcast NBCUniversal's The Farm Accelerator. Tinuoye has received several awards and accolades in the city, including being honored with a Resolution from the Georgia Legislative.
The Cambridge University graduate is a sought after on-air contributor, speaker, panelist, and moderator at conferences across the globe. More recently she moderated a 'Bias in Artificial Intelligence' panel discussion at CES 2019. Tinuoye is a former News Correspondent for NBC's theGrio.com. Prior to relocating stateside, Tinuoye was a senior broadcast journalist for the BBC in London. She is an international writer whose work has been published in The Daily Mail, London's Evening Standard, Ebony.com and The Voice newspaper. For several years, Tinuoye served on the Editorial Advisory Board of Cambridge Alumni Magazine(CAM), which is distributed to approximately 150,000 readers globally per edition.
Tinuoye was one of the original founders of Aspire, a support network for minority journalists in the UK. The organization has partnered with and attracted sponsorship from mainstream media outlets, including the BBC, Channel 4, and the Financial Times. Tinuoye graduated from the University of Cambridge, with a bachelor's and master's degree in Social & Political Sciences. She studied a post-graduate in print journalism and is an NCTJ qualified UK professional journalist, with credits in media law and 100 wpm shorthand. Ovation Magazine has named Tinuoye one of the 50 most influential Nigerians in the diaspora.
Speaker Panel
Noelle London – Assistant Director of Innovation and Entrepreneurship, Invest Atlanta
Noelle London leads Invest Atlanta, the Economic Development Authority of Atlanta's Innovation and Entrepreneurship efforts. Here she supports building Atlanta's technology ecosystem and has launched a toolkit of resources providing Atlanta's entrepreneurs support to gaps in funding, customer access, and tech talent. Prior to joining the Invest Atlanta team, Noelle London was with 1776, a global incubator and seed fund, in Washington, DC. There, she launched and managed 1776's second incubator in Crystal City, Virginia. She later moved on to lead the DC Region team and launch industry-focused challenges to improve corporate innovation pipelines. Noelle completed her masters in Global Policy at the Lyndon Baines Johnson School of Public Affairs at the University of Texas at Austin. During graduate school, she worked as a researcher with IC2 Institute studying innovation policy and entrepreneurship globally, including projects focused on Ecuador, Indonesia, and South Korea. Noelle served as a Peace Corps Volunteer in Nicaragua training the Ministry of Education in a new entrepreneurial development curriculum as well as helping to build women's artesian cooperatives. She holds a BS in Economics and Latin American Studies from the College of Charleston.

Danica Kombol – CEO, Everywhere Agency
Danica Kombol has entrepreneurism in her blood. Both her parents were business owners and she took that entrepreneurial grit to launching Everywhere Agency a decade ago, at the height of the financial crisis. Today, Everywhere Agency is one of the country's leading influencer marketing firms working with some of America's most iconic brands to tell their stories online. She founded the influencer network Everywhere Society to power the agency's many award-winning campaigns for clients like Macy's, Carter's/OshKosh, Moe's, Newell Brands, Cox Enterprises and others. As a social media marketer, Danica draws on her extensive background as a television producer and PR executive. She began her career at Sesame Workshop and went on to become a successful television producer working on such legendary shows as Saturday Night Live and Kids in the Hall. She's a frequent speaker at social media conferences and global forums.
Danica serves on the board of the National Black Arts Festival and is a founding board member of the Influencer Marketing Association. She's a graduate of Leadership Atlanta and an alumni board member of the Atlanta Women's Foundation and WOMMA (Word of Mouth Marketing Association). She's a 2019 Recipient of the Atlanta Business Chronicle's "Women Who Mean Business" and was named 2019's "Marketer of the Year" by the Atlanta American Marketing Association.

Martine Resnik – Co-Founder, The Lola
Martine Resnick has an extensive background in creating, building, marketing and monetizing global brands. She has led and united teams to create and deliver products, content and multi-platform campaigns in the US and across Europe for fortune 500 companies, Estee Lauder and Warner Media, managing both small, scrappy budgets and annual budgets of $30MM +. A corporate entrepreneur, Martine launched an e-commerce business for TBS as a side hustle, generating $3MM in sales in the first 6 months. Martine is a specialist in brands aimed at women. She launched and built multiple female brands including the Emmy winning Samantha Bee on TBS and Cartoon Network's award-winning – The Powerpuff Girls. She has also fostered profitable partnerships with female forward brands such as R29, SheKnows, Blogher, The Wing, Topshop, Liberty London, Selfridges, Fred Segal to name a few.
Carolyn Pitt – Founder & CEO, Film Connx
Carolyn Pitt is the Founder and CEO of Film Connx, a B2B2C job marketplace and social community for film that is reinventing how producers, studios, and corporate brands source diverse slates of vetted local crew. Carolyn is an Intellectual Property & Entertainment Attorney who previously practiced law at Alston + Bird, LLP. Her diverse multidisciplinary background includes success in a variety of fields, including Management Consulting, Business Development, and Executive Placement. Carolyn is very passionate about the film industry and about empowering Atlanta-based film professionals to be successful participants in the booming local film ecosystem.
Thank you to our event Sponsors!