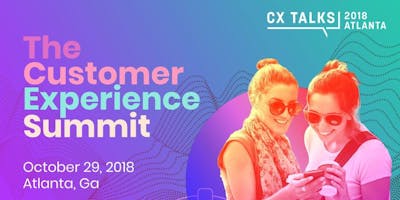 Monday, October 29, 2018
(Partner Event) CX Talks Summit: The Customer Experience Summit 2018
Get Your Tickets
When & Where
Monday, October 29, 2018,
7:30 am to 6:30 pm
Sandy Springs Performing Arts Center
1 Galambos Way,
Sandy Springs, GA 30328
Directions >
Event Details
The Customer Experience Summit is the largest customer experience event in Atlanta with 30+ speakers and 400+ attendees. 
If you care about your customers and want to improve your customer experience – this is the conference for you. Our goal is to help create seamless customer experiences by breaking down the silos and building bridges between business units and disciplines. Come learn about the diversity of talent and skills required to deliver a delightful and effective Customer Experience (CX).
This full-day conference features 3 keynote speakers, 24 CX Talks speakers, an all-star CX Practitioner/Client panel, and a CX Tech Showcase. Meet and network with CX leaders, association representatives and conference attendees from a wide variety of disciplines. You'll leave with a more informed understanding and appreciation of the talent, skills and tools required to create world-class customer experiences.